MEMBERS AREA [–]

Categories [–]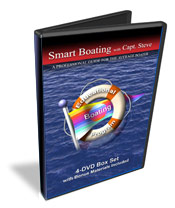 The first ever 4 disc Boaters Educational DVD Box Set!
This Smart Boating video course has more content than any other recreational boating course available! It is the definitive �Professional Guide for the Average Boater�� loaded with real-world examples from a licensed captain with over 30-years experience. Capt Steve will take you from basic boating to the professional level, all in four entertaining DVD�s. Great for the whole family!
Smart Boating will also fully prepare you for any state�s certification test with over 250 engaging questions that reinforce the materials learned. Actual on-the-water footage includes over 10-hours of lessons on such topics as;
Docking Procedures for both Single and Twin Engine Boats
How to Navigate
Nautical Terminology
Launching and Loading for Trailer Boaters
Emergency Procedures
Rules of the Road
Understanding Buoys and Markers
Personal Watercraft (PWC) Operations
Canoeing and Kayaking
and so much more
Still not enough? We also include:
A Printable Float Plan
A Complete Copy Of The Coast Guard Rules Of The Road
A Nautical Dictionary
A Complete List Of All VHF Marine Radios Frequencies
State Towing Laws
A Pre-Departure Checklist
Chart #1 (Nautical Chart Symbols And Abbreviations
A Fuel And Oil Usage Graphs

just to name a few
This is the "must have" course for every level of boater. Smart Boating because safe boating just isn't enough!